All thanks given to our wonderful local cardiologist, Dr. Kimberling, Diego will be receiving a wish from the Oklahoma Make A Wish Foundation.

The coordinator of Make A Wish called with a special treat.

The TU Soccer Team is a Make A Wish Ambassador.

Sunday November 3

rd

will be their last home game, which means it is Senior Game Day.

The seniors wanted to do something special for their last game so they contacted Make A Wish to ask if they had a child that loves soccer.

They immediately thought of Diego.

Diego will be introduced as their Honorary Team Captain, along with a few other surprises.
Much to our amazement, the few other surprises turned out to be earth shattering for our soccer fanatic.

It started with the TU Soccer Coach and team introducing themselves to Diego then asked that he join them in their locker room before the game began.
It was an exciting moment as Diego ran onto the field with them team sporting his new TU Soccer Jersey.

What a wonderful addition to Diego's soccer jersey collection.

This particular jersey will always hold a special story in Diego's life.
During halftime, Diego was called onto the field and introduced as the TU Honorary Team Captain…Oh what a privilege!
Then, something beyond his wildest dreams happened. Notice the rolls of paper being held by the TU participants standing behind Diego. They each unrolled their sign to reveal the following earth shattering announcement…
Your wish will come true with your whole family too! World Cup bound June 2014
I think the Fox23 video below shows exactly how we were feeling in that moment.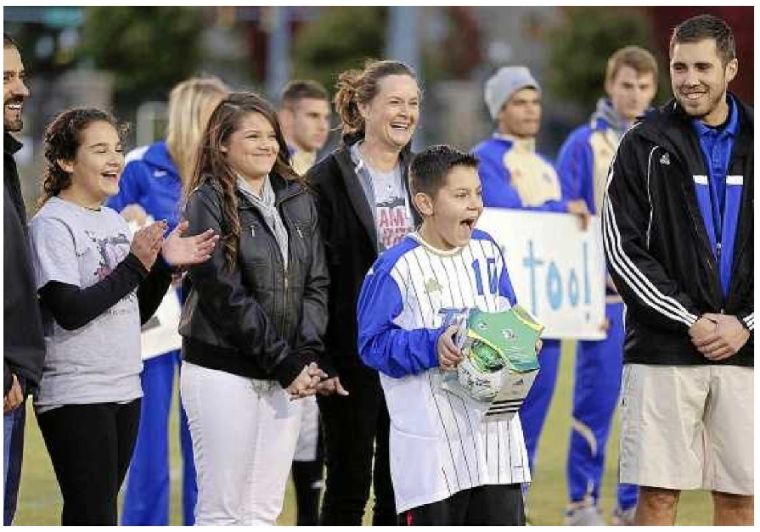 Diego Segovia (center), 10, surrounded by family, reacts as he reads signs held by TU cheerleaders saying he and his family will attend part of soccer's 2014 World Cup in Brazil sponsored by the Make-A- Wish Foundation, during a surprise announcement at halftime of the men's soccer game at the University of Tulsa on Sunday.



Thank you TU Soccer Team and The Oklahoma Make A Wish Foundation for making Diego's dream come true!